October 12th, 2019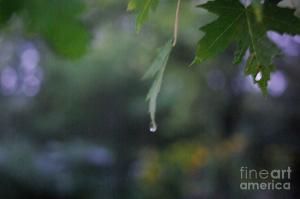 Raining - A raindrop hangs from a leaf. Long exposure nature photograph of rain in motion. Image processed in-camera by Frank J Casella.


"Prayer is to our soul what rain is to the soil. Fertilize the soil ever so richly, it will remain barren unless fed by frequent rains."
~ Saint John Vianney






------------------------------------------------------------------------------------------


I'm featuring the photograph linked below at a special discount.

Also, for my birthday, on October 29th, I will feature this special discount - one day only - for my entire website.

Enjoy!


I am posting a new photograph each week, and then send a special mail like this one to your inbox. Look for it each Saturday.

The ' Fine Art America ' logo will not appear on your final purchase.

I invite you to view my collection of colorful uplifting photographs and gifts, and bring new light and life to your home and those you love.

I produce and sell photographs of moments in time, and human interaction, that share hope and God's love in the world, through my Catholic Faith.

My partnership with Pixels (Fine Art America) assures each print is produced using my high-resolution original photos, meticulously assembled at a state-of-the-art production facility, and delivered worldwide to your doorstep as a "ready-to-hang" masterpiece with a 30-day money-back guarantee.


View the Feature for This Week by Frank J Casella


You also might like to read my blog post on Answers to Your Questions About This Program




Thanks for reading, talk with you again real soon.

Frank

Frank J Casella Photographs


'Pictures That Share Hope and God's Love in the World'



Bookmark this address to quickly check new photos new.frankjcasella.com


If you purchased one of my photographs, I would love to hear from you and thank you personally for your purchase, and to make sure you are pleased with the product and service from Pixels / Fine Art America (replies from you go to my personal inbox, because my newsletter goes to your personal inbox, and I feel like fair is fair).




--

To come back to this blog directly Bookmark: Blog.FrankJCasella.com

Subscribe to the blog only by RSS https://fineartamerica.com/rss/blogs/frankjcasella

To get updates about new photos and blog posts, like this one, straight in your inbox, subscribe to the E-mail newsletter. About three times a week. Unsubscribe at any time.