May 24th, 2022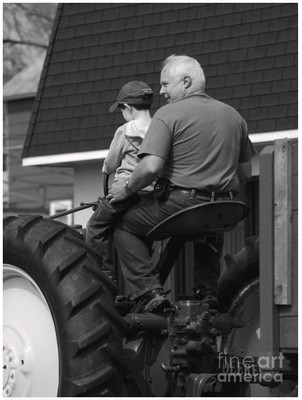 -- Grandpa --

With this photograph: Grandpa - A Grandpa gives a child a ride on his lap on the tractor. Telling from the smile on his face, he was enjoying this as much as the boy seems to be.

But this is only one role a grandfather plays in the family. Another one is to be a mentor to his children about parenting from the male perspective. I am sure you know of, or can think of, others ...

I never met my Grandfather from my Dad's side of the family, because he passed away when my Dad was a young boy. This got me to thinking one day how my Grandfather gave me something that only he could.

In his short life he not only gave me my Dad, and my Dad to me, but he gave both of us the family name: Casella.

Although as a Catholic my true identity is in Jesus Christ, here on earth I have my identity by my name. Family names are very important in the Bible, and they are also important with my Italian heritage.

My Dad instilled in my siblings and I how important it was to make a good on the family name. He had to learn growing up without a Father how to be a man, and then example this to my brother's and I. And example to my sister's what to expect from a man (to marry).

All this to say that the role of a grandfather transitions from that of a father setting the mission for the family, towards teaching life lessons to grandchildren. And with this picture of the boy on the tractor, Grandpa shows him what it's about maybe more by example than with instruction.




Image reference link: https://frankjcasella.pixels.com/featured/grandpa-frank-j-casella.html


Thank you for reading,

Enjoy your day!

Frank J Casella, Art Photographer
Blogger on Fine Art America


----



Subscribe by RSS https://fineartamerica.com/rss/blogs/frankjcasella

To receive blog posts like this one straight in your inbox, subscribe to my E-mail list. Delivered to your inbox about once a week. Unsubscribe at any time.