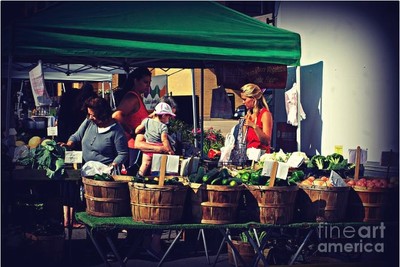 Photo: Early morning crowd at the Saturday Farmers Market at Martin Square, Downtown Homewood, Illinois. I always love how the power of the color red works in the story telling of a photograph, also how that little baby is watching all the activities. 'Farmers Market Produce' - Copyright 2017 Frank J Casella. https://fineartamerica.com/featured/farmers-market-produce-frank-j-casella.html




Price, Cost And Value


"The price of excellence is discipline. The cost of mediocrity is disappointment."

- William Arthur Ward


"The price of inaction is far greater than the cost of making a mistake."

- Meister Eckhart


"Freedom has cost too much blood and agony to be relinquished at the cheap price of rhetoric."

- Thomas Sowell


"The price of light is less than the cost of darkness."

- Arthur Nielsen


"Long ago, Ben Graham taught me that 'Price is what you pay; value is what you get.' Whether we're talking about socks or stocks, I like buying quality merchandise when it is marked down."

- Warren Buffett



I've updated my prices for 2023, and I've done this with you in mind Though it may now cost you less, this does not affect the value of its quality. I've also had to come to terms with price, cost and value.

Because relative value is the valuing how much the artwork is worth by comparing it with its competitors.

For example, while a famous painting may sell for millions of dollars at an auction, the cost of creating that painting is meaningless relative to the sale price. The value and price are being derived from the prestige of the artist, as well as other emotional aspects that you the buyer may connect with.

In other words, understanding the value of quality is essential. In general, people don't care as much about price as they do about quality.

On Fine Art America from time to time, in the duscussion forum, the question comes up what to do with an artist's account after their death. Many artists seem to have the idea their art will keep selling after death like it was when they were living. This is true for a select few, but unless the majority (of them) develop word of mouth and / or teach someone how to market their work, it won't happen.

Growing up in a family business my mom and dad showed me how there is a difference between being a freelancer and being an entrepreneur. The freelancers work ends when they are done with it, the entrepreneur builds a business to continue after they are done. (Thus when mom died we closed the business because she was the business .. people always wanted to talk to her)

Likewise there is a difference between a big box store and a farmers market: The big box store sells many different products under one roof, the farmers market is many different businesses under one 'umbrella'.

Some people call Fine Art America the Amazon or Walmart of Art online. I tend to think of FAA as the farmers market of Art online. There is a movement now where people are not shopping the big box stores and instead shopping local stores based on product and need.

This because the mostly larger retailers now allow something critically human to be getting lost: the spirit of our democracy and the backbone of our privacy. You know who they are, and how they're treating us as commodities. They somehow mistake people signing up to use their services, or buying from their stores, as a welcome invitation to target, track, spy, and sell our information to advertisers and the government., as well these companies and organizations are funding the attack on traditional American values, instead of simply serving the customer.

This is one of the reasons you see Amazon and WalMart closing stores or loading off empoyees. With the present economy I tend to think the farmers market has a better leverage to be in business because of lower overhead, and they ususally better understand how important simply serving all customers is to their business. Likewise, Fine Art America, unlike other Print On Demand sites, does not have investers or a board of directors and thus the owner can make quick adjustments (like the farmers market) as needed.

This too is why my artist website is powered by FAA. There are many artists on FAA who can beat me on price but nobody beats me on cost. Price is a one time thing, cost is a lifetime thing.

The value of my art photography is in the eye of the beholder. I don't want you so much to own my artwork because it is a Casella photograph, rather I want you to feel an emotional connection that is priceless to you.

I invite you to view my collection of colorful uplifting photographs and gifts, and bring new light and life to your home or workplace and those you love. My Online Portfolio address is - https://frankjcasella.crevado.com - and a larger collection can be found on my website at - https://frankjcasella.pixels.com

Order any size print - on canvas, paper, wood, metal, or acrylic - for all size spaces and budgets, plus phone cases, pillows, tote bags, greeting cards and more! These photos are quality printed in partnership with pixels.com (a Fine Art America company) and will be shipped directly to you from them.

Why?

Because many people who purchase my photographs say how much it makes them smile.


"Your smile doesn't change them, it changes YOU. And THAT's what changes them. "

~ Bob Burg



----

Subscribe by RSS https://fineartamerica.com/rss/blogs/frankjcasella

To receive blog posts like this one straight in your inbox, subscribe to the E-mail newsletter. Unsubscribe at any time.