May 18th, 2022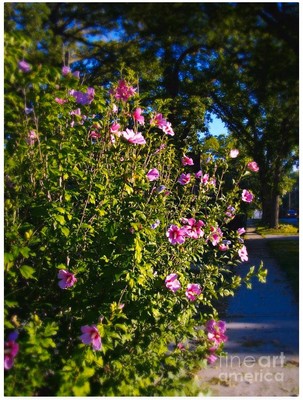 With this latest photograph Sunlit Pink Flowers - A bush of pink flowers illuminated by the morning sunlight along the neighborhood sidewalk in Midwest America - Illinois.

Life is filled with simple moments.

I have been making pictures for over fifty years. If you count before I become professional, back when I was a young boy. It has all been about the simple moment or, as I say, pictures people listen to.

Being very shy as a child, I found pictures to do my talking about how I see humanity and the world around me. People responded to them, and often said I should put them in Art galleries.

But I would have none of it.

I may have an Italian name, but my other half is German, and you know what they say .. you can tell a German, you just can't tell him anything.

Truth be told, I didn't have the energy to do the gallery circuit, as well as travel around doing art shows .. set up, take down, and repeat. I grew up in a family business where it was hard enough to bloom where you are planted, and watching the mailbox each day for receivables.

That is until the internet was invented.

So, in 2013 is when I found Fine Art America or, rather, it found me - FAA takes care of presenting my work and fulfillment, and I create it and get the word out, short of the long.

I learned about how this works from when I was a photojournalist: Shoot the film and then hand it to the lab, etc. .. it's about teamwork

When I worked for Cardinal Bernardin (mostly) in the 90's it became evident to me the importance of having and knowing your platform - what is your ' WHY '

Over the decades, this has never been about the money or making sales, it has always been about how society needs examples, through works of Art, of goodness and hope - The Simple Moment. Fine Art Photography is a by product of my work through the Catholic men's apostolate that I co-founded. Likewise, I could not have done any of this without my family!

All of this to say thank you for enjoying my artwork, and, how it inspires you so much to share it with others. That is what it is there for and why I do it. Again, thank you for how you make a positive impact on the world.

Life is too short (otherwise), and we need simple moments to inspire us more than ever in recent history.


"The only thing we take with us when we die, is what we have given away."
~ Francis Cardinal George




Image reference link: https://frankjcasella.pixels.com/featured/sunlit-pink-flowers-frank-j-casella.html


Thank you for reading,

Enjoy your day!

Frank J Casella, Art Photographer
Blogger on Fine Art America


----



Subscribe by RSS https://fineartamerica.com/rss/blogs/frankjcasella

To receive blog posts like this one straight in your inbox, subscribe to my E-mail list. Delivered to your inbox about once a week. Unsubscribe at any time.