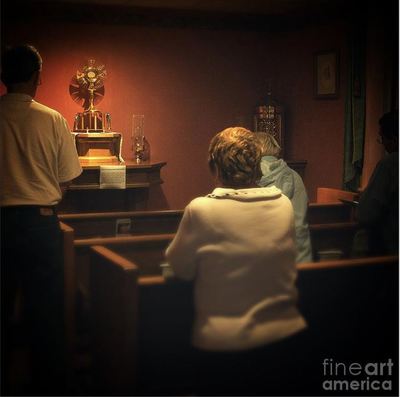 Holy Adoration Altar


First, I would like to wish everyone on Happy Spring! At the link below are some images that I only wish were ' Scratch - N - Sniff ' so you can get the full aroma! They are all moved to the top here:

Browse through my Flowers and Trees Collection



Second, about the picture for this week:
Adoration is a sign of devotion to and worship of Jesus Christ, who is believed by Catholics to be present Body, Blood, Soul, and Divinity, under the appearance of the consecrated host, in the form of hosts, that is, consecrated altar bread.

As a devotion, Eucharistic adoration and meditation are more than merely looking at the Blessed Host, but are believed to be a continuation of what was celebrated in the Eucharist. From a theological perspective, the adoration is a form of latria, based on the tenet of the Real Presence of Christ in the Blessed Host.

Whether you are Catholic or not, looking at this picture it is hard to argue the love for Jesus and the power of prayer these people illustrate. I've also included here the Crucifix for Lenten devotion.

Join my Email List for the latest promotins [View the Feature of the Week Gallery]

This week, until next Friday, I am featuring the artwork at this link at rock bottom pricing - no discount code needed. Enjoy!

[This includes all Wall Art: Canvas Prints, Framed Prints, Acrylic Prints, Metal Prints, Wood Prints, Prints and Posters, Tapestry, plus Greeting Carts and Phone Cases, and more!]



Finally, my recent article about the COVID-19 Virus. It got me to thinking since I wrote it how Social Distancing should really be called Physical Distancing .. because we need to be social even though farther apart. There seems to be a movement going in this direction.

Sunday Letters - Comfortable

Even though most of our churches are closed until further notice, we still have three weeks left of Lent. This is not a time to forget our spiritual lives. In fact, it is a time to grow deeper. So much until our focus is on love, the greatest of all the virtues. Jesus tells us that He can summarize all the Commandments with two – love God and love your neighbor.


Joy and Peace

Rejoice in the Lord always. I shall say it again: rejoice!

Your kindness should be known to all. The Lord is near.

Have no anxiety at all, but in everything, by prayer and petition, with thanksgiving, make your requests known to God.

Then the peace of God that surpasses all understanding will guard your hearts and minds in Christ Jesus.

Phil 4: 4-7




Thanks for reading, and a meaningful lent to you.

Frank


'Pictures That Share Hope and God's Love in the World'

I invite you to view my collection of colorful uplifting photographs and gifts, and bring new light and life to your home and those you love. I produce and sell photographs of moments in time, and human interaction, that share hope and God's love in the world, through my Catholic Faith.

Frank J Casella Photographs Website




--

To come back to this blog directly Bookmark: Blog.FrankJCasella.com

Subscribe to the blog only by RSS https://fineartamerica.com/rss/blogs/frankjcasella

To get updates about new photos and blog posts, like this one, straight in your inbox, subscribe to the E-mail newsletter. About one to three times a week. Unsubscribe at any time.